About A World of Good, Inc.

A World of Good was created in 1993, shortly after Jeri Gerard returned from her first travels across China, Tibet, and Nepal. Jeri had brought back a small suitcase full of hand-made Nepalese crafts, including sterling silver jewelry with semi-precious stones, Tibetan Buddhist prayer wheels, and beads. A few visits to American bead shops and jewelry shops convinced her that she had found great items that people in the U.S. would enjoy.

In 1994, A World of Good was incorporated. Since then, the business has grown steadily, offering an increasing variety of hand-crafted goods. The company has satisfied wholesale customers from coast to coast, including jewelry shops, bead shops, new age shops, design studios, and hair salons, along with museums and even Tibetan Buddhist temples.

As importers doing business in developing countries, Jeri and her husband Wayne are mindful of the benefits and hazards of importing. Over the years, they have come to know many of the manufacturers personally, ensuring appropriate quality of the merchandise and the working conditions under which items are produced.

We hope that you will browse further in this web site. As you do, please keep in mind that there is always more information and more merchandise--we can't get it all in here! So, feel free to contact us, whether you are hoping to buy items or just interested in learning more about A World of Good, Inc. You can talk with us by calling (301) 587-0871.  Or send us email: awog@erols.com or aworldofgood@gmail.com

We hope to hear from you!  Please click below to receive notices of shows, sales and new inventory.
http://eepurl.com/oWRpL
There is always something new at A World of Good.  

Jeri Gerard and Wayne Hall
A World of Good, Inc.
Shaker Heights, OH 44120
Phone: 301-587-0871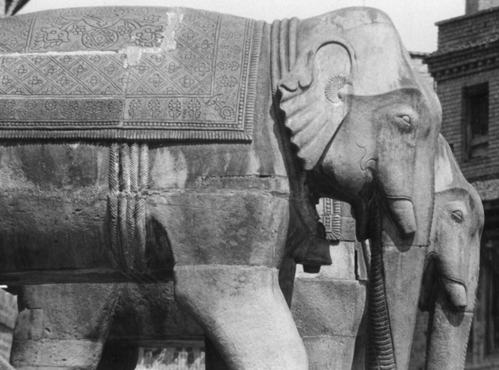 Giant Elephant Statues in Bhaktapur, Nepal